Grand Theft Auto III 10th Anniversary for iOS 4.1 and above[/CENTER][/COLOR][/U][/B]
By Rockstar Games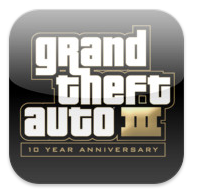 Description

Welcome to Liberty City. Where it all began.

Rockstar Games celebrates the 10th anniversary of one of the most influential games of all time. The critically acclaimed blockbuster Grand Theft Auto III comes to mobile devices, bringing to life the dark and seedy underworld of Liberty City. With a massive and diverse open world, a wild cast of characters from every walk of life and the freedom to explore at will, Grand Theft Auto III puts the dark, intriguing and ruthless world of crime at your fingertips.

With stellar voice acting, a darkly comic storyline, a stunning soundtrack and revolutionary open-world gameplay, Grand Theft Auto III is the game that defined the open world genre for a generation.

[B]Universal App:
Game has been fixed to work on iOS 4.1 and above.
Grand Theft Auto III is supported on iPhone 4, iPhone 4S, iPod Touch 4, iphone 3GS, Ipod touch 3G, iPad 1 and iPad 2.
Tested on 3G ipod touch running iOS 4.2.1
Features:
• Visually stunning updated graphics, character and vehicle models
• HD quality resolution
• Gameplay optimized for touch screen devices
• Custom controls for the mobile platform
• Countless hours of gameplay[/B]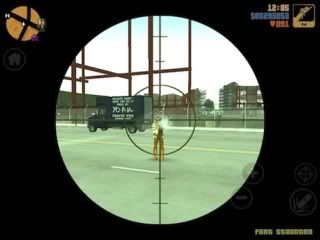 Code:

http://adf.ly/86mrY

http://adf.ly/86mpw

Graphics modding:
[COLOR="#999933"][CENTER]
ENABLING A5 EFFECTS ON A4 DEVICES:

All us Iphone4,3gs/ipod 4,3gen users (A4 chip) know how many graphical features were removed from GTA 3 in favor of a `performance boost`! These include:
*No traffic lights
*Low-res textures
*No car lights
*No night lights (including pole lights)
*Basically no light effects AT ALL, not even the sun effects!
*No shadows
*No blood effects

Did all these (apparently unnecessary) sacrifices give crispy, solid performance? NO!
The game is still jittery and sometimes reaches unplayable framerates on iphone 4. Well, then why should we deal with much less pretty graphics if there is a way to enjoy this:




[B]Use WinSCP or whatever file explorer you use to add the newly modded .set file
In WinSCP, under VAR/MOBILE/APPS in your ipod/iphone, find gta3 (a folder with a name starting with 820B332D-E663-41AC..........). in that folder, open the `Documents` folder. There should be a gta3.set file there. Just copy and replace the file with the one you downloaded. then exit from WinSCP and restart your ipod/iphone. Open GTA 3 on your iphone/ipod, and go to options - controls - reset defaults
Enjoy your much better looking and performing GTA 3!
This GTA3.set file is preset with MAX Graphics settings (blood, shadows, max. draw distance, traffic lights)
[You must be registered and logged in to see this link.]
[
Last edited by Admin on Fri Aug 03, 2012 12:06 am; edited 1 time in total